This Card Perfumed with "Hoyt's German Cologne"
Cliff & Linda Hoyt
Last Modified February 22, 2009
Eli Waite Hoyt was born in Alexandra, N.Y., on September 5, 1838. His parents moved to Lowell, Massachusetts, around 1846 when E.W. was about eight years old. He attended the public schools of Lowell and was considered by many to be a local boy. E.W. Hoyt started his business life in Lowell in 1851 at the age of 13. He initially worked in the apothecary shop of E.A. Staniels at the corner of Central and Middlesex Streets. Hoyt eventually became Mr. Staniels' partner and by 1863, when Mr. Staniels died, he succeeded to the full business.
Traveler for E.W. Hoyt's German Cologne Circa 1890: Travelers were salesmen who traveled from store to store taking care of Hoyt's retail customers.
The cologne which was to make the name Hoyt famous was first developed for sale in his apothecary shop. The name "German" was originally applied to the cologne in 1870. This name was chosen just to give a definite title to the cologne. There was no intention (unless implied by the innocent buyer) that the cologne came from Germany or bore any resemblance to German cologne. The cologne initially was only sold in $1.00 bottles, with sample vials filled with cologne freely distributed to create an increased demand. By 1877, the production of the German Cologne became so all consuming that Hoyt sold the apothecary shop to two current employees, Crowell and Harrison, so that Hoyt & Co. could devote their full time and energy to producing and selling cologne.
| | |
| --- | --- |
| Original E.W. Hoyt German Cologne (7.0" H x 1.5" Diameter) | Sample E.W. Hoyt German Cologne vial ( 1.7" H x 0.7" Diameter) |
Freeman Ballard Shedd is another name that is inextricably linked with E.W. Hoyt and Co. Shedd started to work for Staniels in 1855 and in 1870 became Hoyt's partner in the apothecary shop. Shedd was the marketing genius behind the products produced by E.W. Hoyt and Co. It is probably not a coincidence that Shedd became Hoyt's partner in the same year (1870) that the term German Cologne was first identified with E.W. Hoyt and Co. The following are some of Shedd's contributions:
Bottles: The original $1.00 bottle limited distribution since it was more cologne than most people needed (or wanted). Shedd designed a distinctive round bottle with the indented panel for use with the cologne and provided both the $1.00 and a new 25¢ trial-size bottle. This trial-sized bottle proved to be a huge success and business expanded quickly. The date when the trial-sized bottle was introduced is estimated to be in the early 1870's, since a medium-sized (50¢) bottle was introduced in 1876.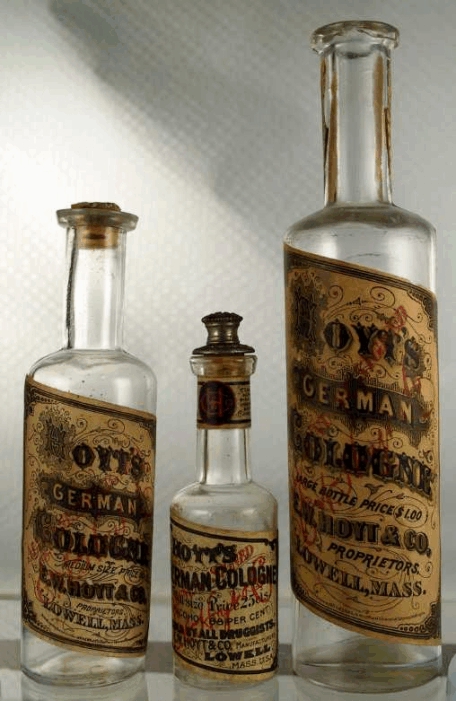 Early E.W. Hoyt German Colognes: Medium ( 5.5"H x 1.5"D), Trial-Size ( 3.7"H x 1.3"D), & $1.00-Size ( 7.5"H x 1.7"D)
Rubifoam for the Teeth: The second major product sold by E.W. Hoyt & Co. was Rubifoam for the Teeth. (The name is pronounced like Ruby Foam due to the brilliant red color of the product.) It was introduced in 1887, the same year that E.W. Hoyt died at the age of 49. Shedd is most likely the man behind Rubifoam since Hoyt had been ill for at least three years prior to his death. During this time Hoyt had tried recuperating first in Europe, then California, and near the end in Colorado Springs, Colorado. It can be reasonably assumed that Hoyt could not have been a major participant in the introduction of a product that was first marketed shortly after his death. The initial bottle of Rubifoam had an indented panel similar to the German Cologne but it was quickly replaced with a flat panel.
 

Indented Panel E.W. Hoyt Rubifoam (4.0"H x 2.1"W)

E.W. Hoyt Rubifoam Standard (4.0"H x 2.1"W)

Sample E.W. Hoyt Rubifoam (2.2"Hx1.2"W)
Perfumed Trade Cards: The first method of advertising, sample vials of cologne, proved to be expensive. Around 1871, Shedd developed the concept of soaking trade cards with cologne and freely distributing the cards both as advertising and samples. During the history of Hoyt's cologne, over 50 unique cards were created. The long period of time during which each card was used required many different printings and resulted in numerous variations. The images are naturally slightly dark because the cards were lightly stained by being soaked in cologne. Additionally, many of these cards were made of more porous material than normal trade cards so they would soak up and retain the cologne. Therefore the cards tend to have worn, rounded corners.
The early history of trade cards distributed by E.W. Hoyt and Co. is documented in the Lowell Illustrated of 1884. The first cards were just text printed in black ink; later other colors of ink were used. The author has never seen these cards with black ink and most of the known cards are green with a few cards in blue ink. The card comes in a number of variants. There are a number of different versions of the printed text plus two major border characteristics: "crosses" or "noncrosses".
First E.W. Hoyt's German CologneTrade Card:

 Crosses( 2.7"H x 3.4"W)

First E.W. Hoyt's German Cologne Trade Card:

 Noncrosses (2.6"H x 3.4"W)
Anyone who has ever soaked Hoyt's cards out of a scrapbook will attest that the statements about fragrant, lasting, permanent, everlasting etc., are not exaggerations.
The second style of card distributed by E.W. Hoyt and Co. provided ten scenes from the popular play "Toodles". These cards were printed in black and white.
 

 

 

 

 

 

 

 

 

 

Early E.W. Hoyt German Cologne: Toodles Trade Cards Circa 1875-1876 (approx. 4.9"H x 3.2"W)
In order to continue providing new versions of trade cards, the Lowell Illustrated states that E.W. Hoyt printed a chromo-lithograph card where the "...design was a wreath of flowers, among which were birds and butterflies. These were the first chromo-lithographs ever issued for gratuitous distribution throughout the country as an advertising medium." This is probably hype but they were certainly among the first. These trade cards come in a number of variations. They all have a blue border and typically have a background inside the border of a light pink/salmon. The principal difference is the printing style of the word "German".
E.W. Hoyt & Co. then started producing a series of "Girl in a Rose" trade cards. The company tried a number of "Girl in a Rose" cards, starting with variations of blonds before they settled upon a lovely brunette. These cards consistently advertise only the 25¢ and $1.00 bottles of cologne which suggests that they were designed prior to 1876.
A number of Hoyt trade cards were distributed with programmes on the back for theatrical presentations and concerts. The programmes for the brunette "Girl in a Rose" can be found dated as early as 1881. These programmes come in two basic types: (1) the front of the trade card was a standard card without a reference to the programme or (2) the cards had the word Programme printed on the front and were longer.[Imagine the reek and the actors gasping for untainted air as an audience of 300 fanned themselves with these cards.]
| | | |
| --- | --- | --- |
|     |   |   |
| Wreath Card (4.7"H x 3.2"W) | Early Girl In A Rose (4.5"H x 3.1"W) | Brunette Programme Card( 5.8"H x 3.1"W) |
Between 1888 and 1899, E.W. Hoyt & Co. distributed calendar trade cards. These cards were generally about 5.5" by 3.5" give or take a few tenths of an inch. There are two anomalies in this set of cards: (1) 1888 is a double card that is twice the general dimension when opened and (2) 1898 which appears never to have existed (hence the dates included in this series are 1888-1897 and 1899.)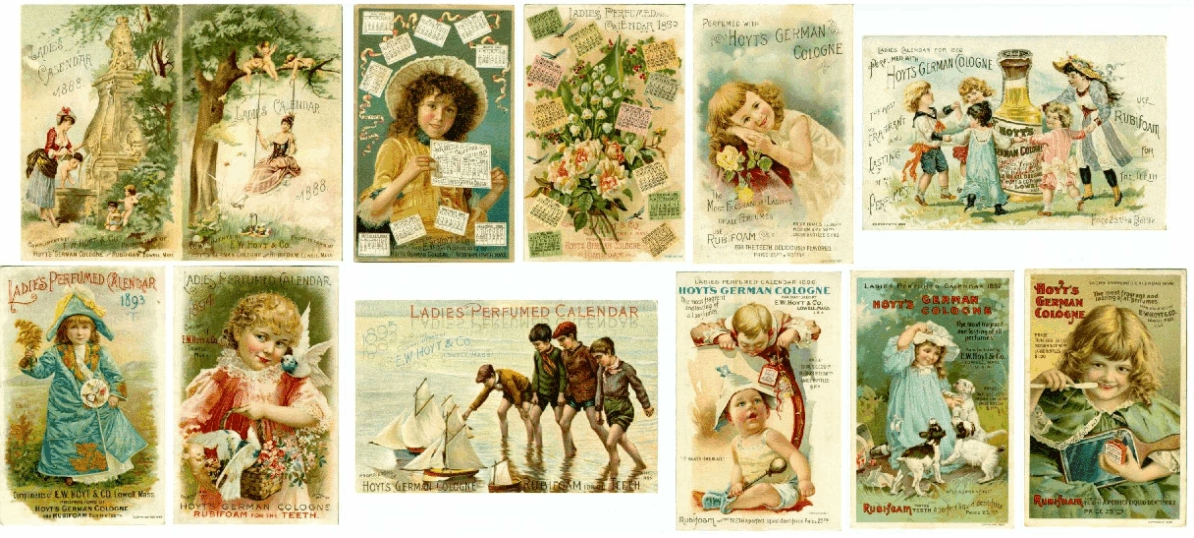 Hoyt's German Cologne Calender Trade Cards: top row – 1888-1892, bottom row 1893- 1897 & 1899
The company printed other calendars as well. For the years 1894, 1895 (used same image) and 1900-1902 then printed a larger format calendar called in the form of a ink blotter. These calendars were 4.5" by 7.0". For 1925 the company created a die-cut stand-up calendar which stood 5.3" high.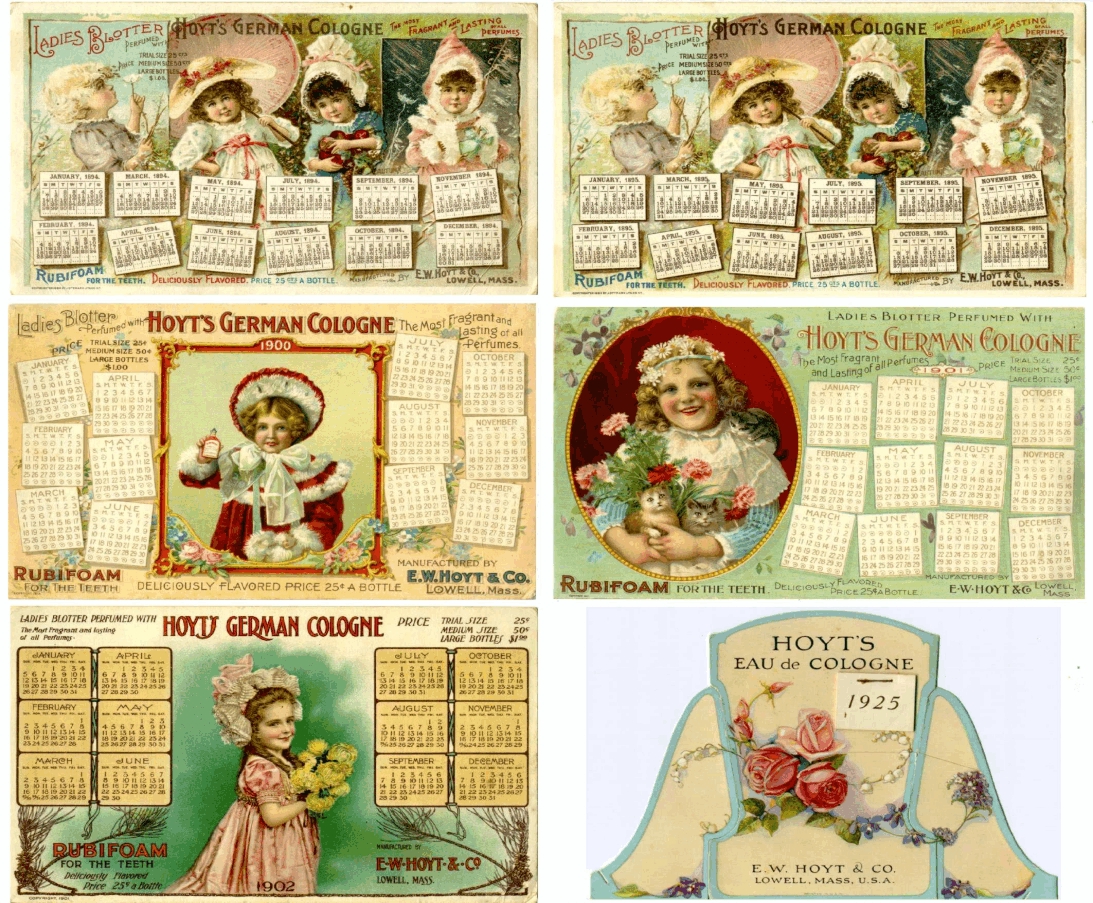 Calendars from E.W. Hoyt's Cologne: top row – 1894& 1895, middle row – 1900 & 1901, bottom row 1902 & 1925
In addition to trade cards the company also published a number pamphlets for Rubifoam. The pamphlets typically were providing information on taking care of your teeth.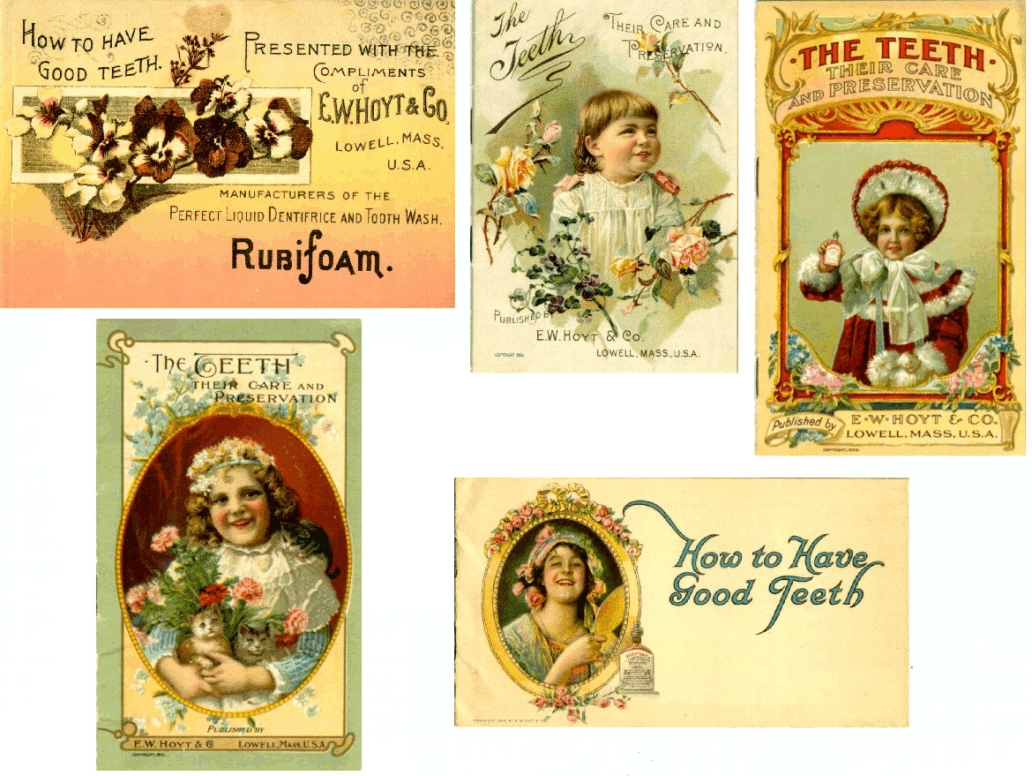 Rubifoam Pamphlets dates from left to right top row: 1887 – 1890, 1891c, 1900–1904. Bottom row: 1901c, 1916c.
During the "German Cologne Period"of E.W. Hoyt & Co. other advertising medium besides trade cards and pamphlets were used. Magazine and newspaper ads were used and appear endless. More finite in nature were the company's advertising using, fans and signs that split the advertising between the German Cologne and Rubifoam.
| | | |
| --- | --- | --- |
|   |   |   |
| E.W. Hoyt Cologne Early Tin Sign (28.0"H x 22.0"W) | E.W. Hoyt Cologne Paper Sign (29.5 x 21.0) | E.W. Hoyt Cologne Paper Sign (22.5"H x 16.5"W) |
The advertising fans fall into two major styles: Japanese bamboo and American cardboard. The Japanese fans use a piece of bamboo which is partially split and then covered with thin paper. The bamboo fans are decorated using two major styles: (1) scenes from Japanese culture or (2) floral designs. The back of both types of fans are similar and contain advertising text.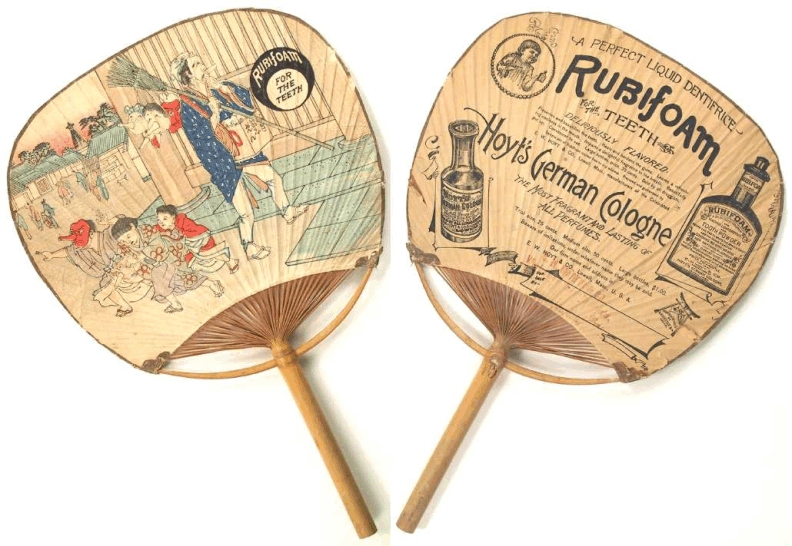 E.W. Hoyt's German Cologne Japanese Culture Fans (15.5"H x 10.0"W)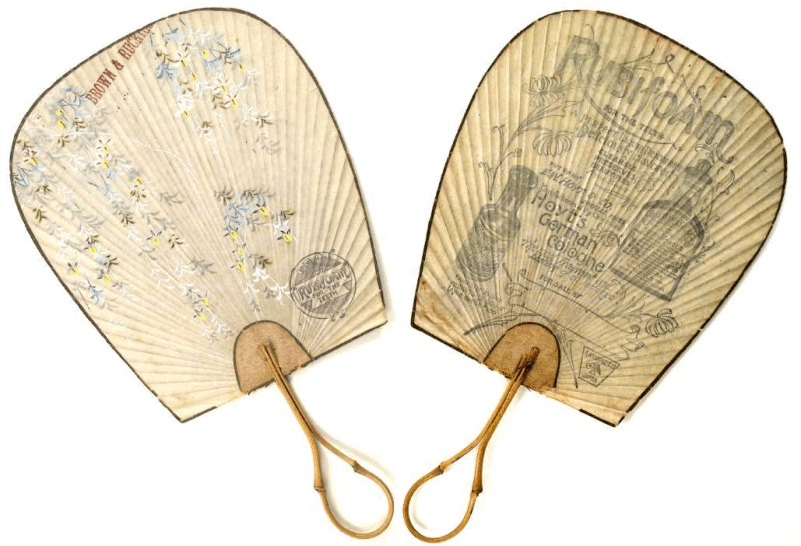 E.W. Hoyt's German Cologne Japanese Fan with Floral Designs (16.0"H x 10.0"W)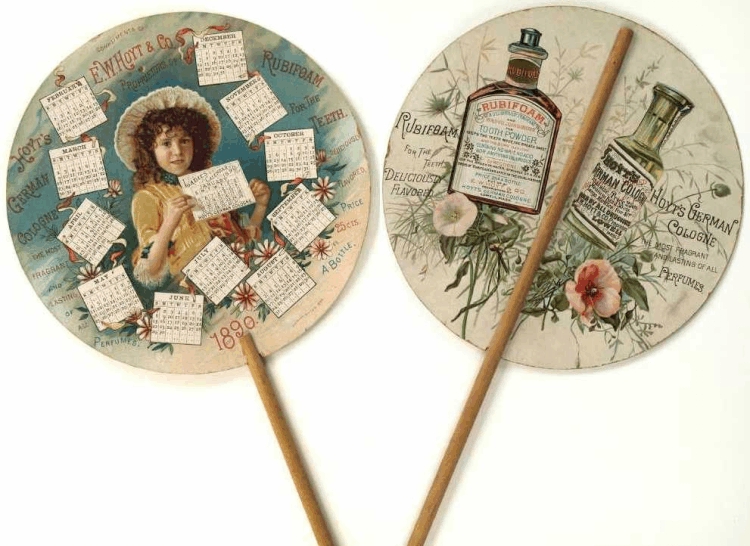 E.W. Hoyt's German Cologne Cardboard Fan (approx. 17.5"H x 7.7"W)
In the early 1900's, E.W. Hoyt and Company introduced two new sizes of their cologne. The 5¢ and 10¢ sizes were advertised on smaller cards (4.0" high by 2.5" wide). These trade cards are unusual because both sides are printed in color. As the new century progressed inflation hit and the original 10 cent cologne became the size of the original 5 cent cologne and a new 15 cent size was introduced.
| | |
| --- | --- |
|   |   |
| E.W. Hoyt Nickel Cologne (2.4"H x 0.9"D) | E.W. Hoyt 10 Cent Cologne (3.0 x 1.1D) |
|   |   |
| E.W. Hoyt 15 Cent Cologne (3.0"H x 1.1"W) | E.W. Hoyt 10 Cent Cologne Trade Card (4.0"H x 2.5"W) |
An important event in the history of E.W. Hoyt & Co. occurred in the early 1900's - World War I. The name "German" lost its foreign, exotic connotation and took on the "hated Hun". Around 1918 "German Cologne" was changed to "Eau de Cologne" and the name on the bottle became E.W. Hoyt Perfumers.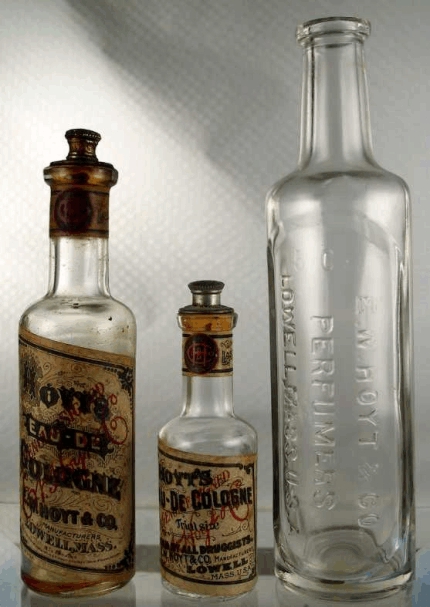 Early E.W. Hoyt's Eau de Cologne (1918-1925)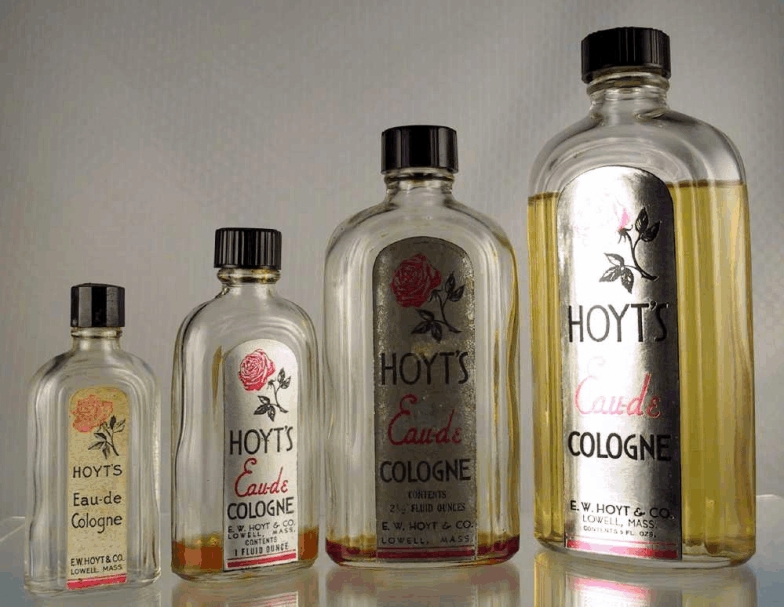 Late E.W. Hoyt's Eau de Cologne (1925-1945)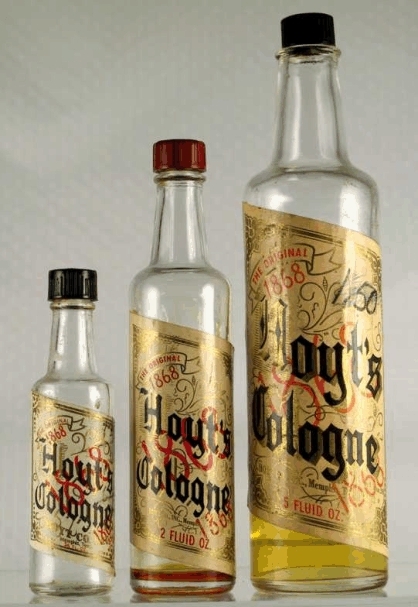 Last E.W. Hoyt Bottle Style From Lowell, Mass. 1945-1951
The era of mass-produced trade cards was near the end but E.W. Hoyt & Co. continued to produce trade cards because they had the added advantage of being a sample of the cologne. E.W. Hoyt was therefore one of the earliest as well as the latest advertisers to use chromolithographed trade cards. Only three major styles of "Ladies Blotters" were produced after 1918. The first two styles were printed by the American Lithographic Co. NY. The company left Lowell, MA in 1951.
Victorian scrapbooks would not have looked the same without E.W.'s prolific use of the printer's ink, and they certainly wouldn't have smelled the same, either.
| | | |
| --- | --- | --- |
|   |   |   |
| Early Blotter Style (3.2"H x 5.9"W) | Middle Blotter Style (3.3"H x 6.1"W) | Late Blotter Style (3.3"H x 5.9"W) |